How to fly through space without really trying.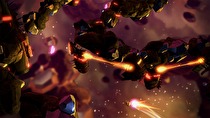 July 16 will see a tale of space dodging hit the Switch.
Ontario-based independent developers PixelNauts will release their space action game Lost Orbit: Terminal Velocity three weeks from today. Originally released for the PlayStation 4, the game will launch for $9.99.
In Lost Orbit, the player must find their way back home from deep space by dodging a myriad of obstacles and finding equipment to keep their suit alive. There will be 65 stages to slip through.