Prepare to have your own kitchen nightmares.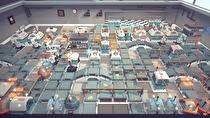 Team17 will be cooking up a kitchen design sim next month.
Automachef, the previously announced kitchen design game, has nailed down a release date of July 23. It was originally tagged for a summer release.
A new trailer (below) has been released that shows the aesthetic of the game and introduces the assistant Robert Person; no relation to the one-time Major League Baseball pitcher is intended.