And we get a new Twitter account to go with it.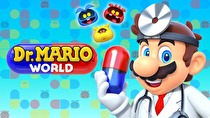 Dr. Mario World will be opening for business early next month.
The LINE-developed puzzle game will be available for iOS and Android on July 10 (North America time). Pre-registration is now available in the appropriate app stores: iOS and Android. Updates for the game will be called out on the new Twitter account @DrMarioWorld_en.
A trailer that explains the game is also now available: