We kind of knew this but now there is zero doubt.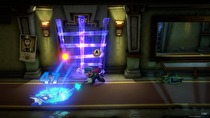 Next Level Games are returning to Luigi's Mansion with Luigi's Mansion 3 after a trip to the Metroid universe in Metroid Prime: Federation Force.
Nintendo was previously a little cagey about confirming Next Level Games' involvement after Luigi's Mansion 3 was revealed in 2018, but during a Treehouse Live segment at E3 2019, Next Level Games was confirmed as the main development team.
On the Nintendo side, Yoshihito Ikebata is leading development. He previously worked with Next Level Games on various projects and also worked on a variety of other games, including the Art Style series, Custom Robo Arena, and more. He joined Nintendo in 1999 and is part of Nintendo Entertainment Planning and Development's (EPD) Production Group 6.
Luigi's Mansion 3 is due out later in 2019 and is currently playable at E3 2019.