Among the 40 games crammed into Nintendo's 5 minute video montage are Panzer Dragoon, Alien Isolation, and The Witcher III: Wildhunt.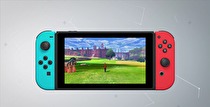 It can be hard to track every single game and date and reveal when Nintendo makes one of their rapid fire game montage reels, so we did it for you!
Find below the listing of games that appeared in Nintendo's Switch - E3 2019 lineup video, which includes everything from indie titles to tentpole releases, from games out in a mtter of days to games out next year, and which includes some key third party contributions! Don't forget to click the names for more coverage!
Listed in order of appearance in the video: