The Bird and Bear are raring to go this fall!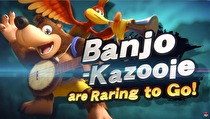 During today's Nintendo Direct, it was revealed that Banjo and Kazooie are the third DLC character coming to Super Smash Bros. Ultimate. The Bear and Bird duo were icons of the Nintendo 64 era, appearing in two of Rare's most beloved offerings during that time.
The DLC stage appeared to take place in Spiral Mountain, the location of Banjo and Kazooie's home. The stage featured recurring characters Bottles the Mole and series antagonist Gruntilda the Witch. Banjo Kazooie's Final Smash featured a swarm of Jinjos battering King K. Rool before launching him away.
Banjo and Kazooie are coming to Smash Bros. Ultimate this fall.