Surprise! The Nintendo-published indie rhythm dungeon crawler hits the Switch before E3 ends.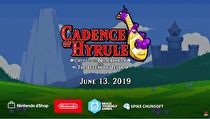 Cadence of Hyrule is bringing its rhythm Zelda goodness to the eShop on June 13 as announced during today's Nintendo Direct.
Developed by Brace Yourself Games, it's heavily inspired by their prior Switch release Crypt of the NecroDancer.