Finally, we can relive our purple dinosaur memories on the go.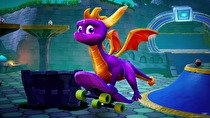 Spyro Reignited Trilogy is at long last coming to Nintendo Switch on September 3.
The set includes: Spyro the Dragon (1998), Spyro 2: Ripto's Rage (1999), and Spyro: Year of the Dragon (2000). Retailing for $39.99, the port to Switch is handled by the original developer of the remastered trio of games, Toys for Bob. When it released last year on other platforms, reception was positive as it took the first three Spyro adventures and upgraded them in HD with modern controls. The original soundtracks from Stewart Copeland still remain.