Square Enix Collective will publish this modern revival of the retro genre next year.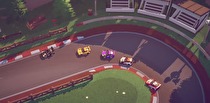 Circuit Superstars, a new motorsport-obsessed racing game in the retro top down arcade racing genre, will be coming to the Switch in 2020. Revealed at the Square Enix E3 2019 Press Conference, Circuit Superstars aims use its retro perspective, sharp arcade visuals, and tactile driving physics to evoke a range of eras and styles of motorsport. The brief game trailer promises that you'll be able to race with friends as well as plan your pit stop strategy.
Developed by Mexican dev house Original Fire Games, Circuit Superstars will be published under the Square Enix Collective program.