It's time to go GaGa for SaGa on SwitchGa.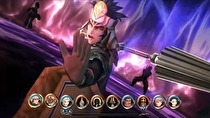 SaGa: Scarlet Grace Ambition and Romancing SaGa 3 are coming west for the very first time as revealed during Square Enix's E3 presentation.
SaGa: Scarlet Grace first launched in 2016 exclusively on the Vita before hitting Switch and other platforms in August 2018. It's notable for the return of SaGa creator Akitoshi Kawazu, who returned to the series after working on Final Fantasy Crystal Chronicles: The Crystal Bearers and The Last Remnant. The Switch version features numerous additions from the original release, most notably additional content and voice acting.
Romancing SaGa 3 came out on the Super Famicom in 1995, following up Romancing SaGa 2, which hit the Nintendo Switch in late 2017. SaGa 3 has come out on in Japan on various platforms in the past, including the Wii and Wii U Virtual Console, but this is the first time it will come out in the west.