The narrative-centric platformer features an arresting art style and word-based puzzles.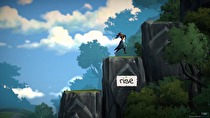 Lost Words: Beyond the Page adds Nintendo Switch to its launch platforms when it debuts in December 2019, according to publisher Modus Games.
Developed by Sketchbook Games, this narrative-focused puzzle platformer is backed by a story written by Tomb Raider writer Rhianna Pratchett. A young girl explores a world of her own creation to solve puzzles often requiring the use of words to change items. It's likely leading to a somber ending as the trailer details how the girl was given a journal by her grandma and now her grandma isn't doing so well.
Lost Words has received accolades over the course of its development. We will see ourselves if it makes an award-worthy impression on our E3 team when they play it at the event next week.