Tumblestone developers are publishing this physics-based mindbending platformer.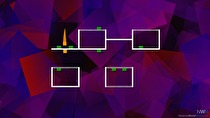 Deleveled from Tumblestone-creator the Quantum Astrophysicists Guild is bringing its second third-party title to Switch this fall with the release of the physics-based puzzle platformer.
Developed by Seattle-based duo ToasterFuel, the hook to Deleveled is you control a pair of boxes in tandem from a sidescrolling perspective. One falls down; the other falls up. By using their momentum to navigate tight quarters, you have to reach the goal of each of the 100+ levels. The trailer below does a good job of explaining the concept.
Following Deleveled, QAG will also publish Sail Forth as they currently work on their next game, dubbed Freshly Frosted. Previous games from QAG include The Bridge and Tumblestone as well as their first published title, the early 2019 release Almost There: The Platformer. All of these games are currently available on Switch.