What you see is what you catch.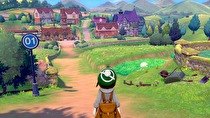 Pokémon Sword and Shield will replace random encounters with overworld models and randomized hiding spots, as shown in the new trailer from today's Direct.
Creatures still hide in tall grass but alert players with an exclamation point. Other Pokémon roam the land and may charge or run away from the player once spotted. At one point in the trailer, the player coaxes a Stufful out from its hiding spot with a whistle.
In tall grass or caves, battles with wild Pokémon will occur when you run into Pokémon that you can see wandering around.

You can also trigger battles by running into the :exclamation: icon that will pop up in patches of tall grass. #PokemonSwordShield pic.twitter.com/UlYNOs3soh

— Dynamax Pokémon (@Pokemon) June 5, 2019