The Switch is now absorbing PSP games, and I say the sky's the limit.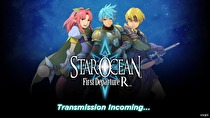 After nearly a quarter century, Nintendo system owners outside Japan will finally get to experience a late Super Famicom RPG.
Star Ocean: First Departure R has been announced for worldwide release on Switch today. No release window or distribution methods have been announced.
STAR OCEAN First Departure R, the very first entry in the #StarOcean series - setting course for PS4 and Nintendo Switch.

Keep communication channels open for further updates. pic.twitter.com/pOyJUVfA16

— STAR OCEAN (@StarOcean) May 25, 2019
Star Ocean was originally released for the Super Famicom in 1996, developed by the then-new tri-Ace and published by Enix. It used additional chips to push the Super Famicom to its limits and included limited voice acting. The game was remade for the PlayStation Portable in 2008, and the PSP version is what the remaster is based on.