"Oh, I'll just play another Nintendo phone game." "Yeah, about that..."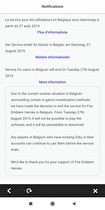 Legislation has struck down two of Nintendo's mobile projects in Belgium and put others on hold.
Announcements were sent to affected players of Fire Emblem Heroes and Animal Crossing: Pocket Camp this morning announcing that service for the games would end on August 27. Belgium law introduced in the wake of the initial release of Star Wars: Battlefront II (2017) was cited in the decision.
The legislation concerns gambling and how video game lootboxes fall under the definition, which focuses on four items: a game element, the possibility of gain or loss, and random chance. Other games have removed the option to buy premium currency, including EA's FIFA series disabling the ability to purchase Ultimate Team packs.
Super Mario Run will remain available for sale in Belgium, while Dragalia Lost was never made available there. There has been no word on how this will affect Nintendo's upcoming Mario Kart Tour and Dr. Mario World projects.