Smack in the middle of the promised Q3.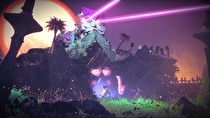 Double Fine's new action title has a three month countdown to release.
RAD, the post apocalyptic action title revealed in March's Nindie Showcase, has been announced for release on August 20 by publisher Bandai Namco. Set in a world that has somehow suffered two separate apocalypses, the game is helmed by former Stacking and Iron Brigade head Lee Petty.