The toy Pokémon are at it again.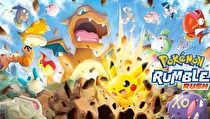 Pokémon Rumble Rush, the fifth entry in the light RPG brawler series, is live first on the Australian app stores, The Pokémon Company announced today.
The "free-to-start" title sees Pokémon battle through wild hoards to unlock new Pokémon and equipment. The tap-control levels lead to "Super Bosses" on each island.
Pokémon Rumble Rush releases in other regions soon, the company said.