Jerry, hold all my calls on June 28.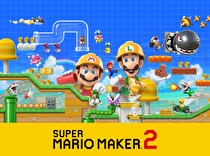 Nintendo has dropped a bunch of new details about Super Mario Maker 2.
New Elements
A host of new items were included for course creation, including the Angry Sun from Super Mario Bros. 3, snaking blocks and on/off blocks from Super Mario World, and seesaw platforms. Sound effects now have new flourishes, including an appearance by Takamaru (from the Famicom's Mysterious Murasame Castle). Challenges, such as killing every one of a single enemy type in the level, can be added as well, and creation can be done in co-op with Joy-Cons.
New themes include deserts, snow, forest, sky, and a selectable night theme that can alter all of the courses.
New Modes
The ingame story mode sees Mario attempting to rebuild Peach's castle by getting coins in over 100 Nintendo-created levels. Characters will be found in the world who award coins and give missions back at the castle.
Levels can be played with up to four players, represented by Mario, Luigi, a blue Toad, and Toadette. The mode can be done both online, or in a local environment provided one player has an internet connection as the courses are pulled from online.
The "100 Mario" and "10 Mario" mode have been replaced by an Endless Challenge, which has online leaderboards.
Other Notes
Nintendo Switch Online will be required to upload courses. In North America, a bundle of the game and a year of Switch Online is available for US$69.99.
Super Mario Maker will be a part of Nintendo's June 8 E3 tournaments, with the Super Mario Maker 2 Invitational 2019 leading off the day's play.