The rat sees green on page 13.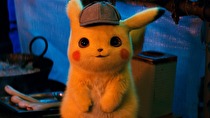 The ability to shoot electricity and solve mysteries couldn't handle Squirrel Girl's buddies.
Estimated box office for the opening weekend of Detective Pikachu's film adaptation have come in at US$58m, with a further estimated international take of $103m for a total of $161 million. In the US, the estimate falls short of the third weekend of megahit Avengers: Endgame with its estimated $63m take. (Final actual figures will be provided on Monday.)
Detective Pikachu does have the highest opening for a video game adaptation in history, passing the 2016 Tomb Raider film reboot by about $10m. It is the highest opening for a Pokémon movie, passing the 1999 Pokémon: The First Movie by about $26.5m. As well, Detective Pikachu is popular with audiences according to film polling firm CinemaScore, with an A- score making it the third live action video game adaptation (after the first Mortal Kombat movie and the Dwayne Johnson-helmed Rampage) to score above a B.
The film has made back its approximately $150m US production budget, though it would need to double its current worldwide figure to be profitable after marketing.