Some blocks are held for charity, and some for fancy dress...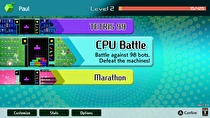 Tetris 99 has added DLC that makes the game playable against something other than 90+ people.
The "Big Blocks" DLC is now available on the eShop for US$9.99/C$12.59, and adds two new modes: Marathon Mode for solo play, and a Vs CPU mode that involves challenging 98 AIs.
More modes (included with the purchase) are planned for the future, as well as new themes. An upcoming Tetris 99 Maximus Cup will see players who earn the equivalent of one win (100 points for a win, 50 for second, and so on) an ingame theme based on the Game Boy version. The 3rd cup will occur from May 17 - 19.