This should look familiar to a lot of you.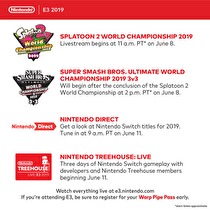 Nintendo has unveiled their full schedule for E3 2019.
Following the previously announced Splatoon 2 and Smash Bros World Championships on Saturday, June 8 (kickoff at 2 p.m. EDT/11 a.m. PDT), there will be a Nintendo Direct airing at the traditional noon EDT/9 a.m. PDT start time. According to Nintendo, the show will focus entirely on software, with specific focus on 2019 releases. After the Direct, Treehouse Live will begin three days of streams from E3.
Attendees of E3 will be able to register for a "Warp Pipe Pass" that will allow priority access to games, though normal lines will still be available. An E3 badge and a Nintendo account will be required.