Some of this has a cost.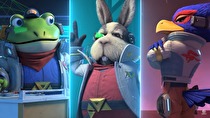 Ubisoft have revealed the details for this month's Starlink: Battle for Atlas including the date and - for Switch owners only - the cost.
All of the new content will be available April 30. The "Crimson Moon" update will add a racing mode, the "Crimson Coliseum" combat arena, new outlaws to round up, and new cosmetics. This update will be free.
The Star Fox content announced in February's Nintendo Direct will be available as a purchasable expansion for US$11.99 or local equivalent. This will include playable Falco/Peppy/Slippy as well as missions dedicated to taking down Star Wolf.