If July wasn't busy enough for you, maybe you'd like to go hunting for 40 hours or so?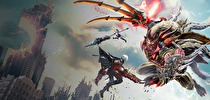 A series Nintendo fans may only know from a crossover game is finally making its full Nintendo debut this summer.
God Eater 3, the most recent title in Bandai Namco's multiplayer hunting series, will release on Switch worldwide July 12 (barring Japan who get the game on the 11th). Players will use weapons ranging from swords to sickles to sniper rifles to bring down and consume large monsters known as Aragami. Characters from the original God Eater were playable in the Project X Zone 3DS games.
The game's physical release will have a preorder offer for costumes from recent Switch release Tales of Vesperia; the costumes are expected to be exclusive.