...would this be a Kirbyvania?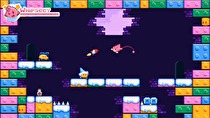 The third quarter will feature some bright whipping action.
Whipseey, the debut commercial release from developer Daniel Ramirez, has been scheduled for release in Q3 (July - September) by publisher Blowfish Studios. The 2D platformer stars the titular Whipseey, who uses a whip on their head to attack enemies, swing from points in the environment, and even extend jumps by twirling it like a helicopter.
The artist for Whipseey is Roy Nathan De Groot, who served in a similar role for the upcoming-on-Switch Super Crate Box.