Just what we needed, more guns.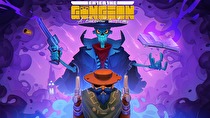 Enter the Gungeon turns three years old next week, and it's getting one final expansion to celebrate.
"A Farewell To Arms" will be the game's final free update, which will be available on April 5 (the game's third anniversary). Two new playable characters, a "Rainbow Mode" and a new dungeon will be available, as well as more guns.
Previous expansions for the game included "Supply Drop" and "Advanced Gungeons and Draguns".