An acceptable portmanteau.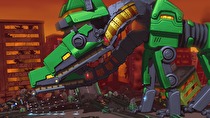 Hörberg Productions's follow up to the smash hit Gunman Clive series will be landing on Switch next week.
The nintendo.com game list has confirmed an April 4 release date for Mechstermination Force, the first brand new title from Hörberg Productions since 2015's Gunman Clive 2. Set in a world conquered by the malevolent MegaMechs, one or two gunners are tasked with taking them down in a boss rush format.
Mechstermination Force's price has been set to US$11.99/C$14.99.