It's been nearly 20 years, but Toon TV is back on the air.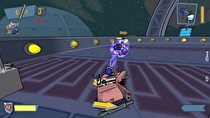 A very early title of the GameCube is coming back in high definition this week on Switch.
Cel Damage HD, a remaster of the 2002 GameCube car combat game, will release on Thursday for US$9.99/C$12.59. The release was first announced via the nintendo.com game list, but the remaster previously appeared on PlayStation Vita and Xbox One.
The vehicle-based combat of Cel Damage focuses on cartoon weapons, and as the name implies the game is best known for its cel-shaded graphics.