Two tourneys... and two booths?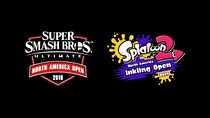 PAX East is at the end of the month, and NWR will be seeing quite a bit of Nintendo at the show.
Nintendo announced their booth plans in a press statement this morning, and they have two different booth slots on the show floor. One booth will be focused on family friendly fare and contain Yoshi's Crafted World, Dragon Quest Builders 2, and "a selection of anticipated indie games". The other will have M-rated or horror games: Mortal Kombat 11, Assassin's Creed III Remastered, Bloodstained: Ritual of the Night, and Hellblade: Senua's Sacrifice will all be playable on Switch in this booth.
Additionally, the finals of the ongoing Splatoon 2 Inkling Open and the Super Smash Bros. Ultimate North American Open will be streamed from the PAX Arena on Saturday.
PAX East takes place in Boston from March 28 - 31, and Nintendo World Report will have full coverage as well as two panels: a look back at the Animal Crossing series on Sunday, and the traditional round of Who Wants To Be A Nintendoaire on Saturday night.