One internal, one older friend.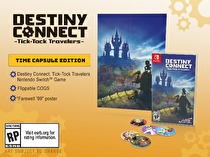 NIS America has just wrapped a live stream featuring updates on upcoming games, including two new confirmed localizations for North America and Europe.
NISA will be handling localization duties for The Alliance Alive HD Remaster, a remake of the 2018 3DS title announced in last week's Famitsu magazine. The remaster will launch this fall, and NISA will have an exclusive "Awakening Edition" in their online store that will include nine paper dolls of the Night Ravens.
Destiny Connect, a Nippon Ichi Software internal project releasing this week, will also come west in the fall. Subtitled "Tick Tock Travelers", the time based RPG will include special collectible "COGS" and a poster with its NISA store limited edition.
Other titles included in the stream, in order of release; Caligula Effect Overdose (Tuesday), The Princess Guide (March 26), and Lapis x Labyrinth ("late May" ).