"What are ya buyin'? What are ya sellin'?" "Uh, three games and a kidney respectively."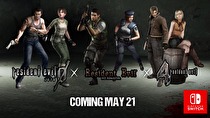 The Switch will be getting a whole lot more frightening on May 21.
Capcom have announced that the three Resident Evil titles announced for Switch last year - remastered versions of RE0, the original, and Resident Evil 4 - will all release on May 21. An "Origins Collection" with 0 and 1 will be available at retail, while 4 will be eShop only for now.
With the Switch release, RE4 will have been sold on four consecutive Nintendo consoles: following its debut on the GameCube, it was ported to the Wii with optional motion controls, while the Wii U had a downloadable version of the Wii game available on its eShop.