You all meet at The Thirsty Mage...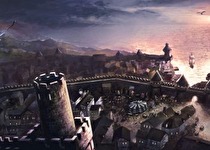 Five classic PC RPGs with recent remasters will be coming to Switch in 2019.
Baldur's Gate: Enhanced Edition, Baldur's Gate II: Enhanced Edition (along with its 2016 expansion Siege of Dragonspear), Icewind Dale, Planescape: Torment, and Neverwinter Nights have all been announced for a 2019 release on Switch and other console platforms. The games were enhanced by Beamdog Software in the early part of this decade, and the console versions will be published by Skybound Games who also picked up publishing rights for the final season of The Walking Dead.
Baldur's Gate, Baldur's Gate II, and Neverwinter Nights were two early games from future Sonic Chronicles: The Dark Brotherhood developers BioWare. Icewind Dale and Planescape Torment both were developed by Black Isle Studios. All of the games are set in the Forgotten Realms of the Dungeons and Dragons universe, and the Enhanced Editions will include all of the expansion packs.