"I got West of Loathing!" "I got Lumines!" "I got a rock..."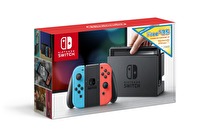 Next week will see North America attempt to juice Nintendo's digital numbers.
Beginning next Friday, Switch systems in North America will include a $35 eShop credit code with a system purchase. The program is being advertised for a limited time, but no end date was given.
Nintendo has offered shop credit previously with systems, such as when launch models of the DSi came with 1000 points for the DSi Shop in 2009.