The only limit is your imagination.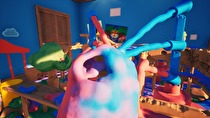 The Switch's portfolio of artistic platforms already had crafts coming in March, and now it's got clay.
Claybook, a platformer created by Second Order (founded by former Trials series developers at Ubisoft), is coming to Switch in March. The game features a rewind function, online leaderboards, and a sandbox mode that features level sharing - including levels created on other consoles and PC.
Local co-op or competitive play for up to four players is also included in the game.