All the fun of airships, with random generation and reality television thrown in for flavour.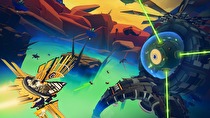 The skies are about to get a little more violent this spring.
Bow to Blood: Last Captain Standing is a new action-focused, randomly generated strategy title which will land on Switch in April. As an airship captain competing on a reality television program, the player will be tasked with surviving the rowdy skies, hunting treasure, and engaging in aerial combat.
One player will be immortalized in the game if they are able to locate a hidden treasure as part of a community event. The date(s) of the event have not been announced.