Coming off a Feh weekend, because that's the most superb owl in the Nintendo realm.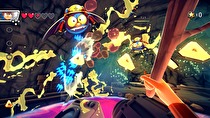 So you're busting out the 3DS this week?
Well, Etrian Odyssey Nexus and Yo-Kai Watch 3 (Made in the USA edition) are coming out this week, so that's a potential 200 hours or so of RPG right there. The Switch has a few big ones of its own too, both in price (BlazBlue) and file size (Observer, which looks cool but is EIGHTEEN GIGABYTES). Away, a game that's been around for a while at various PAXes, is also out this week.
Wait, did you say 18GB? That's like, Doom level.
Yep, gird your microSDs for that one. There's also another Kairosoft simulator in Pocket Academy. Don't get confused with Doom & Destiny: it looks to be a turn-based RPG as opposed to 1.5 good shooters.
And we have to know... anything questionable this week?
Riot: Civil Unrest. Read the room, folks.
North America
Switch Retail
Monster Energy Supercross The Official Videogame 2 (US$59.99/C$79.99: Friday)
The Book of Unwritten Tales 2 ($29.99/$37.79: Tuesday)
Riot: Civil Unrest ($19.99/$24.99: Tuesday)
3DS Retail
Etrian Odyssey V: Beyond the Nexus ($39.99/$54.99: Tuesday)
Yo-Kai Watch 3 ($39.99/$49.99: Friday)
Switch eShop
Blazblue Central Fiction ($49.99/$64.99)
Observer ($29.99/$34.99)
Sky Gamblers - Afterburner ($19.99/$25.19)
Evoland Legendary Edition ($19.99/$24.99)
City of Brass ($19.99/$24.99: Friday)
Defense Grid 2 ($19.99/$22.99)
Away: Journey to the Unexpected ($16.99/$20.99)
Solstice Chronicles: MIA ($14.99/$19.69)
Pumped BMX Pro ($14.99/$18.99)
The Path of Motus ($14.99/$18.89: Tuesday)
The Stillness of the Wind ($12.99/$16.37)
Reverie: Sweet As Edition ($12.99/$16.37)
Pocket Academy ($12.00/$15.12)
Magic Scroll Tactics ($11.99/$15.11)
Odallus: The Dark Call ($11.99/$15.11: Friday)
Doom and Destiny ($11.99/$14.99: Friday)
Captain StarOne ($9.99/$13.09)
Oniken ($9.99/$12.59: Friday)
Commander Keen in Keen Dreams ($9.99/$12.59)
Stunt Kite Party ($9.99/$12.49: Friday)
Mercury Race ($7.99/$9.99)
Percy's Predicament Deluxe ($5.99/$7.05)
KYUB ($5.00/$6.30)
Mimic Hunter ($4.99/$6.30: Friday)
Ping Pong Trick Shot Evolution ($4.99/$6.29: Tuesday)
Gnomes Garden: New Home ($4.99/$6.29)
Food Truck Tycoon ($4.99/$5.99: Friday)
Access Denied ($4.99/$5.99: Friday)
The Rainsdowne Players ($3.99/$4.99)
Magic Nations ($3.00/$3.78: Monday)
99Moves ($2.99/$3.77: Friday)
Avenger Bird ($2.3/$2.89: Tuesday)
Estiman ($1.99/$2.51)
New 3DS eShop
Vera Swings ($5.99/not released)
Switch Archives
Bust-a-Move 2 ($7.99/$9.87)
Sales and Price Drops
Highlights: NIS America titles and the "Weird and Wonderful" sale which includes things like World of Goo and Octodad: Dadliest Catch is on sale until Wednesday, Superbeat Xonic and all of its DLC is 65% off until the 14th. Spreadsheet
Europe
Switch Retail
Monster Energy Supercross The Official Videogame 2 (€59.99/£49.99: Friday)
The Book of Unwritten Tales 2 (€29.99/£26.99: Tuesday)
3DS Retail
Etrian Odyssey V: Beyond the Nexus (€39.99/£34.99: Tuesday)
Switch eShop
Blazblue Central Fiction (€39.99/£34.99)
Observer (€29.99/£26.99)
Warhammer Quest (€24.99/£19.99: Tuesday)
Evoland Legendary Edition (€19.99/£17.99)
Riot: Civil Unrest (€19.99/£14.99)
Sky Gamblers - Afterburner (€16.99/£15.29: Wednesday)
Away: Journey to the Unexpected (€16.99/£14.99)
Defense Grid 2 (€16.79/£14.99)
Pumped BMX Pro (€14.99/£14.99)
Solstice Chronicles: MIA (€14.99/£13.69)
City of Brass (€14.99/£13.49: Friday)
Reverie: Sweet As Edition (€12.99/£11.99: Wednesday)
Odallus: The Dark Call (€11.99/£10.79: Friday)
The Path of Motus (€11.99/£10.79: Tuesday)
Glass Masquerade (€11.99/£10.79: Friday)
Doom and Destiny (€11.99/£10.49: Friday)
The Stillness of the Wind (€11.49/£9.99)
Pocket Academy (€10.00/£8.99)
Magic Scroll Tactics (€9.99/£8.99: Wednesday)
Commander Keen in Keen Dreams (€9.99/£8.99)
Stunt Kite Party (€9.99/£8.99: Friday)
Oniken (€9.99/£8.99: Friday)
Mercury Race (€7.99/£7.99)
Percy's Predicament Deluxe (€5.25/£4.69)
Access Denied (€4.99/£4.99: Friday)
Surfingers (€4.99/£4.49)
Mimic Hunter (€4.99/£4.49: Friday)
Food Truck Tycoon (€4.99/£4.49: Friday)
Gnomes Garden: New Home (€4.99/£4.49)
KYUB (€4.00/£3.59)
Pizza Parking (€3.99/£3.59)
The Rainsdowne Players (€3.29/£2.99)
99Moves (€2.99/£2.69: Friday)
Avenger Bird (€1.99/£1.79: Tuesday)
Estiman (€1.99/£1.79)
Wii U eShop
Sinister Assistant (€3.99/£3.59)
Switch Archives
Bust-a-Move 2 (€6.99/£6.29)
Japan
Blazblue Central Fiction (¥4800)
Touhou Genso Maroku W (¥3000)
Marble It Up (¥2200)
Wargroove (¥2050)
Sky Gamblers - Afterburner (¥2165)
Alvastia Chronicles (¥1296)
The Stillness of the Wind (¥1280)
Screencheat: Unplugged (¥1280)
Pocket Academy (¥1200)
Captain StarOne (¥1000)
Puzzle Bobble 2 (¥823)
Neverout (¥800)
KYUB (¥500)