Some big news for our readers in (or from) Southeast Asia.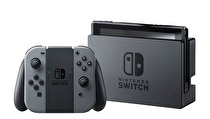 A Switch system update is now available that makes the system more of a polyglot.
The 7.0 update adds Korean language support to the console, as well as Simplified and Traditional Chinese (the latter referred to as "Taiwanese" in Nintendo's update notes). Switch was sold for nearly 14 months in South Korea before the language support was added.
Additional icon choices focused on New Super Mario Bros U Deluxe and the typical "stability" are also included.