Nintendo will still use their solution, but 3rd parties now have a choice.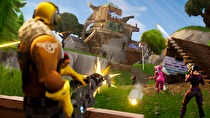 A new voice chat solution has been announced for a wider Switch release, and it'll be in use in some big names.
Vivox, who were recently acquired by Unity and developed the voice chat solution used in Fortnite, have announced a full software development kit (SDK) will be available to any third party Switch developer. The chief feature of the software for end users is that it allows for voice chat without the requirement of the Nintendo Switch Online application, using any headset that plugs into the Switch's headphone jack.
The voice solution supports cross-platform chat out of the box, as seen in Fortnite. Hi-Rez Studios, who released Paladins and Smite for Switch, will also be adding in support in a future update.