We probably won't hear about it until after Nexus, though.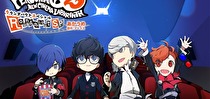 What could possibly be the final major third party 3DS localization has received a rating in Australia, heavily hinting toward a localized version.
Persona Q2: New Cinema Labyrinth has received a "M" (Mature) rating in Australia. The rating lists "Multi Platform", but in Australia most titles are submitted with that platform choice by default.
Persona Q2 released in Japan last November, and we have a review based on the Japanese version from Syrenne McNulty.