Do you think love can bloom in an action platformer?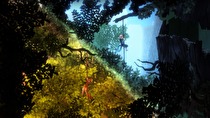 The Chris Avellone-penned Degrees of Separation is just under a month away, and the developers have provided new details about its unique gameplay.
A five minute video has been posted by the developers, showing off the abilities of the game's characters Ember and Rime. Narration will be provided by Kira Buckland, the voice of 2B in 2017's Nier: Automata and Eirika/Katarina in Fire Emblem Heroes.
Degrees of Separation will release on February 14.