IT'S PASSWORD! IT'S SUPER NINTENDO PASSWORD!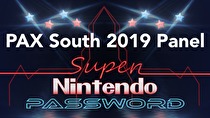 Are you going to PAX South this week? Then don't miss out on one of NWR's panels "Super Nintendo Password"!
The Rules are simple: Each puzzle is described by 5 passwords, by which our special guests gives a one-worded clue to their team mate. If the guesser doesn't guess the password correctly the opposing team then gets a chance to give another clue to their team mate. When the password is guessed correctly, that team has a chance to guess the themed puzzle and win the game! It's just that easy!
You won't want to miss our PAX South panel, Friday January 18th at 8:30 pm in the Cactus Theatre. There will be tons of prizes!
Let us know if you are planning to attend in the comments below!