Four in all, and most of them usually work faster than a jog.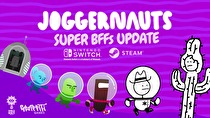 Indie title Joggernauts is the latest to bring the crossover love.
The update, available shortly, will add four new characters from other indie games into the jogging showcase. Cowpokes from West of Loathing, CommanderVideo from the Bit.Trip Runner series, and Hue and Val from Runbow will all be taking to the intergalactic roads.
New levels and tweaked difficulty are also a part of the update.