Europe might open the door to a new ability on the eShop.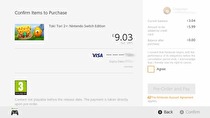 Nintendo's eShop policies are under legal fire in Europe.
A case originally brought forward by the Norwegian Consumer Council has been brought to Nintendo of Europe's headquarters in Germany by the Verbraucherzentrale Bundesverband (Federation of German Consumer Organizations). At issue is Nintendo's preloading policy, which states that all purchases are final with no ability to obtain a refund if the user changes their mind.
NoE cites an article of a European Consumer Law Directive (Article 16, directive 2011/83, PDF link), which states that the act of downloading the game data constitutes delivery of the product, even if a separate unlock key has to be downloaded when the product is released. The original Norwegian case posits that "all purchases are final" terms are illegal under EU regulations, and a 14 day refund window is required.
Should the court rule against Nintendo, the ability to cancel preorders would need to be implemented into the eShop for at least continental Europe. Similar actions have brought forth the ability to refund Steam purchases within 14 days if played for less than 2 hours, among other options.