It'll be a good old-fashioned Christmas down on the farm.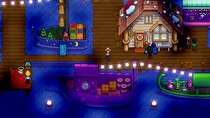 The long-rumored multiplayer update for Stardew Valley on Switch will come tomorrow.
All territories will get the update which enables support for 2-4 players both locally and online. Additional singleplayer features will be included, along with voice chat.
In multiplayer, which launched previously on the PC versions, players share their progress through the main story and money but have their own individual achievements and inventories.