OK, we know the big one. But what ELSE is coming on the eShop this week?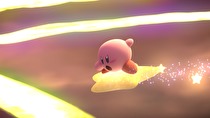 So there's kind of a big deal on the eShop this week.
Yeah, I finally get to play the final version of Monster Boy, seeing as I played it what, a year and a half ago at PAX East?
Bigger.
Oh, like the Genesis Collection, that's got like 50 games in it? Or maybe Katamari Reroll, or maybe Carcassone?
Even bigger than that.
Well, Europe's got a Santa tracker, and they're locked into a trilogy of 100 hour JRPGs. Japan's also got something described as the "Dark Souls of mobile RPGs" in Animus... but lord knows I've heard that description an obscene number of times.
You already bought the game I'm thinking of over the weekend, it's ready to unlock at 1am Friday morning. It's probably going to be your game of the year by default.
Yeah, and I'll be asleep, dreaming of blasting fools in R-Type... oh, that one. Yeah, it'll be out.
...you're not even going to say its name?
It's gotten enough publicity this year, thankyouverymuch.
North America
Switch Retail
Super Smash Bros Ultimate (US$59.99/C$79.99: Friday)
Gear.Club Unlimited 2 ($59.99/$69.99: Tuesday)
Monster Boy and the Cursed Kingdom ($39.99/$49.99: Tuesday)
Toki ($29.99/$39.99: Tuesday)
Katamari Damacy Reroll ($29.99/$39.99: Friday)
Sega Genesis Classics ($29.99/$39.99: Friday)
Hello Neighbor: Hide and Seek ($29.99/$37.79: Friday)
Switch eShop
Atelier Arland series Deluxe Pack ($89.99/$113.39: Tuesday, individual games US$39.99/C$50.39)
Football Manager 2019 Touch ($39.99/$45.99)
Conduct Together ($19.99/$25.99)
Ultimate Runner ($19.99/$25.19)
Carcassone ($19.99/$25.19)
Battle Princess Madelyn ($19.99/$25.19) Delayed to next Thursday
Monica e a Guarda dos Coelhos ($14.99/$18.99: Tuesday)
Rival Megagun ($14.99/$18.89)
Beholder: Complete Edition ($14.99/$18.89)
'n Verlore Verstand ($13.99/$17.99: Friday)
Long Story: A Dating Game For The Real World ($11.89/$14.99)
Basketball ($9.99/$12.59)
Julie's Sweets ($9.99/$12.59)
Demetrios - The Big Cynical Adventure ($9.99/$11.99: Monday)
Quarantine Circular ($5.99/$6.49: Saturday)
Energy Cycle Edge ($4.99/$6.29: Wednesday)
Gnomes Garden ($4.99/$6.29)
Ivanych vs Eared Beast ($2.99/$3.77)
Santa Tracker ($2.99: Friday)
Color Zen (free to play)
Wii U eShop
Call of Nightmare ($0.99/$1.25)
Switch Archives
Twinkle Star Sprites ($7.99/$9.87)
Double Dragon II: The Revenge ($7.99/$9.87)
Sales and Price Drops
Highlights: Guacamelee 2 (December 10) has a 10% general discount and a 30% discount for owners of Guacamelee: STCE on Switch, Freedom Planet (now with a demo) is 35% off until the 13th. Spreadsheet
Europe
Switch Retail
Atelier Arland Deluxe Pack (€89.99/£79.99: Tuesday, contains Atelier Rorona, Totori, and Meruru: individual games €39.99/£34.99 ea)
Super Smash Bros Ultimate (€69.99/£59.99)
Gear.Club Unlimited 2 (€59.99/£54.99: Tuesday)
Monster Boy and the Cursed Kingdom (€39.99/£34.99: Tuesday)
Toki (€34.99/£29.99: Tuesday)
Sega Mega Drive Classics (€29.99/£29.99)
Hello Neighbor: Hide and Seek (€29.99/£26.99)
3DS eShop
Yo-Kai Watch 3 (€39.99/£34.99: Friday)
Switch eShop
Conduct Together (€19.99/£17.99: Wednesday)
Ultimate Runner (€19.99/£17.99)
Carcassone (€19.99/£17.99)
Battle Princess Madelyn (€17.49/£15.79) Delayed to next Thursday
Monica e a Guarda dos Coelhos (€14.99/£13.99: Tuesday)
Beholder: Complete Edition (€14.99/£11.99)
n Verlore Verstand (€13.99/£12.99: Friday)
Son of a Witch (€12.99/£10.99: Wednesday)
Battery Jam (€12.49/£11.29: Monday)
Demetrios - The Big Cynical Adventure (€9.99/£8.99: Monday)
Long Story (€9.99/£8.99)
Quarantine Circular (€5.99/£4.79: Saturday)
Energy Cycle Edge (€4.99/£4.49: Wednesday)
Santa Tracker (€2.99/£2.99)
Switch Archives
Johnny Turbo's Arcade: Wizard Fire (€7.99/£7.20)
Twinkle Star Sprites (€6.99/£6.29)
Double Dragon II: The Revenge (€6.99/£6.29)
Japan
Super Smash Brothers Ultimate (¥7776)
Little Friends: Dogs and Cats (¥6264)
Monster Boy and the Cursed Kingdom (¥3980: Tuesday)
Hollow (¥2000)
Super Gachapon World SD Gundam X (¥918)
The Bug Butcher (¥900)
Twinkle Star Sprites (¥823)
Double Dragon II: The Revenge (¥823)
Animus (¥823)
Super Volley Blast (¥800)