For fans of RPGs, the writer should make you perk up.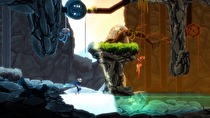 Valentine's Day 2019 will see the launch of a unique platformer with an interesting writing pedigree.
Degrees of Separation will come to Switch on February 14, for US$19.99 or equivalent. A single player or co-op platformer, the game sees two characters navigating a world separated by color and temperature. Chris Avellone, former Obsidian Entertainment writer whose credits include Planescape: Torment and Neverwinter Nights, is head of the writing team.