"Which one?" "All of them."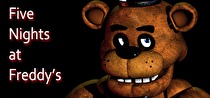 A post on the Steam Community boards has confirmed that one of the biggest hits in PC gaming is coming to Switch at some point.
The horror series Five Nights at Freddy's has been confirmed for a console port in association with publisher Clickteam. According to series creator Scott Cawthon, the console ports are approximately 20% complete.
Originally released in 2014 on PC, the Five Nights at Freddy's franchise has spawned at least five games, with two more in active development. Additionally, there have been several books based on the series, and its rights have been options for a Hollywood film.