First you praise the sun, then you praise the money.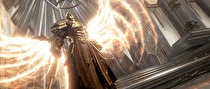 Diablo III is going to get a special friend for the Eternal Collection next month.
Blizzard have announced a Loot Goblin Amiibo for release in "early December". Tapping the Amiibo will unlock special dungeons filled with money.
Where there are goblins, there is treasure to be found! Summon your own portal to untold riches with the exclusive #DiabloSwitch Loot Goblin amiibo – available Dec 2018! pic.twitter.com/jLe4vMmkcH

— Diablo (@Diablo) November 1, 2018
Dataminers who have obtained early copies of the game have found evidence of a second Diablo III Amiibo, but Blizzard has not commented.