The great crossover of Grant Kirkhope and Perry.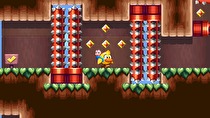 A latter-day 3DS title is coming to Switch, and the soundtrack has attracted an all-star staff that includes one of our own.
Chicken Wiggle Workshop, a Switch version of the Atooi-developed 3DS title, has announced that the Switch version will feature an orchestral remix of the soundtrack. In addition to work from Grant Kirkhope, which was a stretch goal when the game was funded on Kickstarter, Nintendo World Report associate editor and Talk Nintendo Podcast host Perry Burkum will be involved in the rearrangement.
Perry has contributed to game music previously on Nintendo consoles with the 2016 Wii U eShop title Bloc, as well as writing the current themes for Radio Free Nintendo, The Thirsty Mage, Talk Nintendo and NWR Connectivity.
As of press time, there is no confirmed release date for the game. The original Kickstarter campaign gave an estimated delivery date of December 2018.
The author of this post did back the initial Chicken Wiggle Workshop project.