Hmm, that date looks familiar.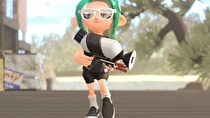 The Inkling won't be the only Splatoon-relevant Amiibo launching on Smash Ultimate day.
The Octoling Amiibo pack announced at E3 will release on December 7. A new trailer shows the Octolings in the costumes unlocked, including a full suit of armor and a witch outfit.