A Switch game is a fair bit cheaper than a 12-month gym membership you use twice.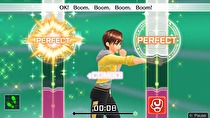 New Super Mario U Deluxe has been pipped for the honor of first Switch game of 2019.
Fitness Boxing, a boxing-focused exercise game developed by Imagineer, will release on January 4, 2019. A price has not been announced for the game. The game was originally shown as a Nintendo published title overseas in Nintendo's last quarterly results.
The game will have 2 player support and unlockable outfits for the boxing trainer and music.